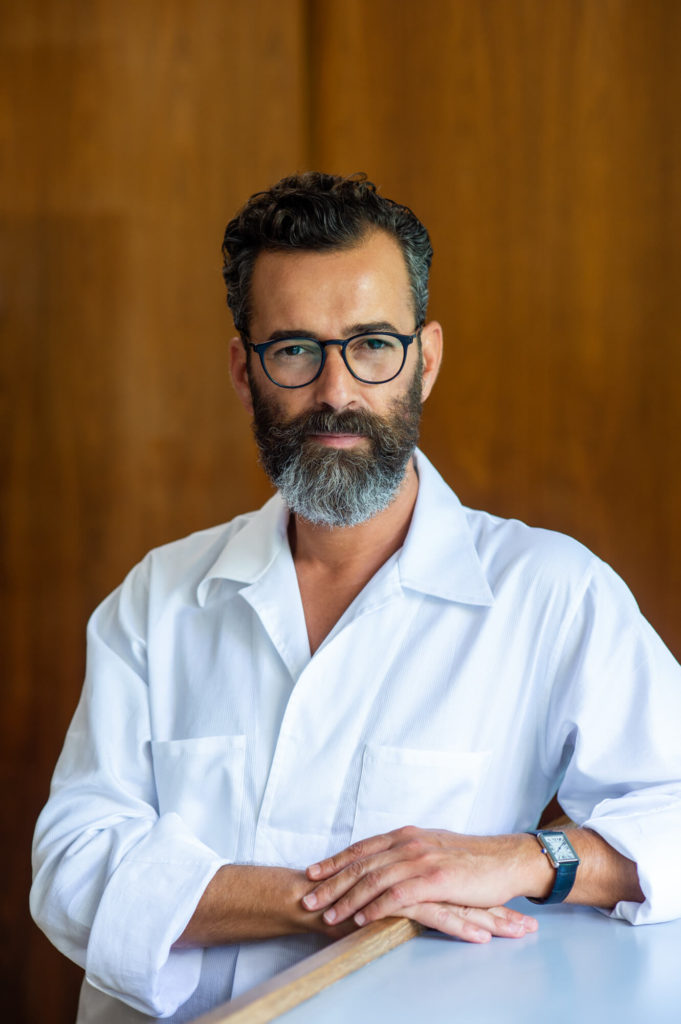 Born in 1978, Angelos Bratis grows up in his seamstress mother's atelier before enrolling at the Veloudakis Fashion School in Athens and continues his studies later in Amsterdam. As the first Greek graduate he gains a master degree at artEZ Institute of the Arts, formerly known as the Arnhem Fashion Institute. 

Paris and Rome become further destinations on his way, where he collects experiences as an assistant to a variety of Couture Houses until his way takes him back to Greece for a first time in 2005 – to establish his own brand. Five years later he returns to Italy as a consultant designer for brands such as Vionnet and Roberto Cavalli – while he continues to present his own collections to an international audience. In 2011, he wins the "Who Is On Next?" competition, founded by Franca Sozzani from Vogue Italia, designer Silvia Venturini Fendi and Alta Roma. In 2014, he is chosen to present his SS15 Collection "Moralis" in the Teatro Armani, the fashion maestro Giorgio Armani's Milanese headquarters, designed by Japanese star architect Tadao Ando.

Angelos Bratis' fluid silhouettes and signature drapes set a new mood of elegant ease. His collections have among others graced catwalks in Milan, Paris, Amsterdam, Athens, Beijing and New York and have garnered the attention of the international press. He has collaborated on special projects with brands such as Yoox.com, L`Oréal Paris, Wella Professionals, Mattel`s Barbie, Johnnie Walker Black Label and Harris Tweed. 

In 2017, Angelos Bratis returns home to Greece for a second time. Deeply inspired after a visit at the space of the former architect`s studio of  Ioannis Despotopoulos – an outstanding artist of Greek Modernism Angelos adores – he decides to establish his second studio there, in the heart of Athens – and bring back life and creativity to an abandoned place. The decision to come back to Greece was accompanied by the offer to become member of the jury of the TV format GNTM – the Greek adaption of America`s Next Top Model – which still runs successfully on TV and is appreciated by the Greek audience for four seasons now.
Said about angelos
Con la cultura innata del pelo sa arricciare e tagliare abiti senza una cucitura, con pieghe e forme di grandissima classe.
FRANCA SOZZANI
VOGUE ITALIA, EDITOR
"I take materials and through cutting make them seem floaty," said the designer, who made what often requires years of training seem so wearable, so elegant and so easy.
SUZY MENKES
THE NEW YORK TIMES
The light feel of Angelos Bratis' spring lineup was deceptive. Though these clothes captured a breezy vibe, their construction and detail were anything but.
WWD
WWD USA
The clothes, made in wool and silk, constructed with a single seam, were as virtuoso as it can get, flowing and coiling around the body with natural ease.
ANGELO FLACCAVENTO
VOGUE RUNWAY
Give Angelos Bratis the plainest piece of fabric and in no time it'll be transformed into a draped wonder. He is an intuitive dressmaker.
TIZIANA GARDINI
VOGUE RUNWAY
The Athenian Bratis is an interesting manipulator of dresses, cutting everything on flat planes of fabric, which really come to life on the body.
MARK HOLGATE
VOGUE.COM